About us
Our strategy
Our strategy
The Plus Plan
In 2017, Fire and Rescue NSW (FRNSW) began a process of transformation from a trusted and respected fire brigade to a world-leading emergency service. The Plus Plan was co-created with hundreds of staff from across the organisation who, with members of the community and other external stakeholders, actively and fearlessly contributed to its development.
Across multiple workshops, staff were asked to reflect on what FRNSW had done well and what could have done better. This provided a clear indication of what required improvement, while also recognising and taking pride in our achievements.
Our Success Model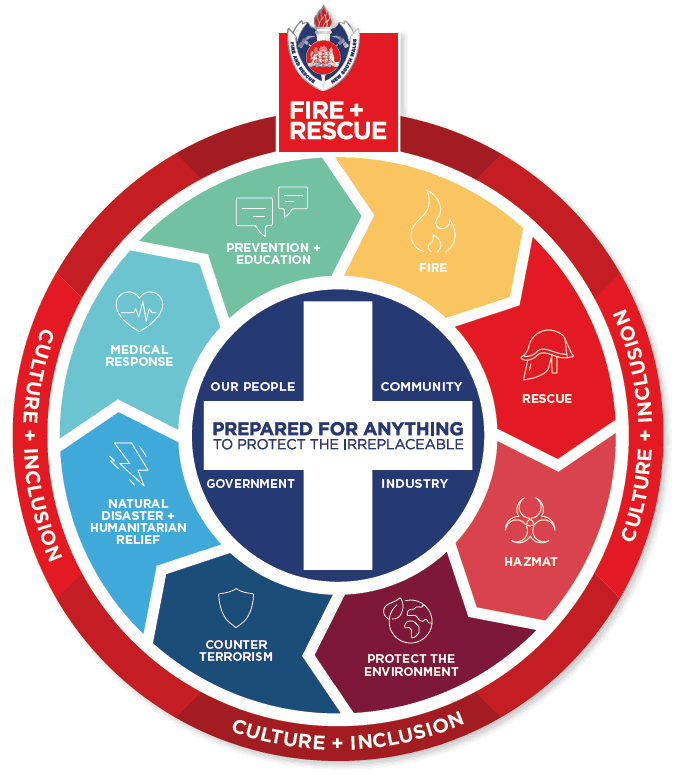 Across the Plus Plan development workshops, staff were also asked to demonstrate what success looked like and how the agency should address the risks, issues, and challenges as it evolved. Groups developed and presented more than 50 models with consistent themes used to create the Success Model.
At the heart of the model, is our purpose, to be 'Prepared for Anything to Protect the Irreplaceable'. This is driven by our people, for our communities, in partnership with government and industry, and by being at our best in delivering our services consistently and sustainably.
It makes clear that success is more than getting the job done, it's making sure everyone has the capability to deliver and is accountable.
Culture and our behaviour frame the Success Model as the ultimate enabler to meaningful change.
A blueprint for positive change
Across each workshop, consistent issues were raised in what had been done well, could be better and the risks, issues and challenges. This input became 37 actions required to improve performance across safety and wellbeing, our people, government, inter-agency relationships, community, business support, industrial relations, and finance.
To manage such a huge undertaking, we focused on seven immediate priorities:
Safety and wellbeing – Reducing firefighter's exposure to carcinogens and building mental health and resilience in all staff.
Training – Improving our programs and delivery methods to provide training that will better prepare on-call and permanent firefighters.
Develop organisational approach to risk reduction – Increasing our accountability at all operational and management levels to not only reduce our risk, but to influence legislative changes and prevention education so our community is better prepared.
Enhancing response capabilities – Increase our core competencies, including counter terrorism and emergency medical response.
Communication – Improving communication with the community and each other so we are more informed and better prepared.
Reducing red tape and bureaucracy – Streamlining our processes and removing barriers so we are better prepared and react faster in any situation.
Inclusive workplace – Improve our culture and remove unwanted behaviours.
As we progress through each year, our programs change as priorities shift and our blueprint for change becomes business as usual.