Incidents and warnings
(REISSUE - UPDATED VIDEO LINK) Fire and Rescue NSW experts identify cause of mobile phone repair shop fire - VIDEO - Maroubra
(REISSUE - UPDATED VIDEO LINK) Fire and Rescue NSW experts identify cause of mobile phone repair shop fire - VIDEO - Maroubra
Published: 29 Mar 2023 12:13pm
Fire and Rescue NSW (FRNSW) has determined a faulty electrical appliance caused a fire in a mobile phone repair shop at Maroubra, in Sydney's east.
The blaze broke out inside the business, on the ground level of an eight-storey building on Anzac Parade, near Wise Street, just before 6:45am.
More than 100 people in apartments above the shopfront were evacuated as firefighters began to attack the flames.
FRNSW crews also used a thermal imaging camera to ensure the fire had not spread into the upper levels or to neighbouring buildings.
It was contained and extinguished in less than an hour.
Experts from FRNSW's Fire Investigation and Research Unit (FIRU) have attended the scene to establish the cause of the fire.
While it was initially suspected a lithium-ion battery sparked the blaze, investigations revealed it was instead caused by a malfunctioning heat gun.
Heat guns are a handheld device used to emit a stream of hot air, and are commonly used in phone repair shops to fix or alter a device's circuit board.
In this case, FIRU investigators established the heat gun was left plugged into a power board overnight, and an automated 'kill switch', meant to force a shutdown of the device when it overheats, didn't activate.
The extent of the damage was reduced by a nearby door being left shut, and the activation of a building smoke detector which quickly alerted firefighters.
_EDITOR'S NOTE: FRNSW is providing unique grabs from the Fire Investigator to the media, along with footage inside the fire scene, available at: https://vimeo.com/812625942/144f086d2d [external link] _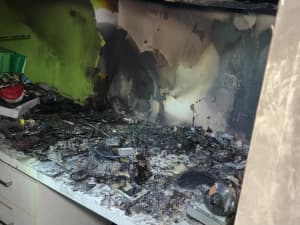 Updated: 05 Apr 2023 03:43pm
Related safety topics

Battery and charging safety
It's important that we all understand the risks of lithium-ion batteries and be prepared if things go wrong.

Common home fires
If you do your bit to minimise the risks in your home, we can all stay safer together.

High-rise fire safety
The best way to keep you and your family safe is to prevent fires from occurring and know what to do in case of a fire.
Stations nearby
MAROUBRA Fire Station
Cnr Maroubra Road & Flower Street, Maroubra NSW 2035
MATRAVILLE Fire Station
Cnr Beauchamp & Bunnerong Roads, Matraville NSW 2036
RANDWICK Fire Station
4 The Avenue, Randwick NSW 2031