Incidents and warnings
Fire and Rescue NSW drones help emergency teams clean-up after wild storm - VIDEO - Port Macquarie
Fire and Rescue NSW drones help emergency teams clean-up after wild storm - VIDEO - Port Macquarie
Published: 04 Feb 2023 03:48pm
Fire and Rescue NSW (FRNSW) crews are working in hot and humid weather today to help clean-up Port Macquarie, on the state's Mid North Coast, after the town was lashed by a sudden severe storm.
Yesterday's wild winds, heavy rain and hail caused localised flooding, ripped roofs from buildings, sent trees crashing onto houses and cars, and brought down powerlines.
FRNSW firefighters from Port Macquarie, Forster, Kempsey, Laurieton, Taree and Wauchope are working alongside the NSW State Emergency Service and other frontline agencies to support recovery efforts.
Several crews are currently on-scene at a major tourist resort on Park Street which lost a significant amount of its roofing to the strong gusts.
FRNSW's Remotely Piloted Aircraft Systems (RPAS), or drones, fitted with special infrared cameras, are helping the teams inspect the hotel rooms and data cabling storage areas which have been left exposed.
Firefighters trained in working at heights are helping make the building safe until repairs can be carried out.
At homes and businesses right across Port Macquarie, the RPAS are being used to inspect the structural integrity of roofs and identify any sites which are too dangerous for emergency teams to access.
FRNSW is also helping residents conduct damage assessments, clearing trees from buildings and roads, and placing tarpaulins on roofs which have been impacted.
_EDITORS NOTE: __RPAS (drone) footage of FRNSW's clean-up efforts at the Port Macquarie resort is available for download via the following web link: https://vimeo.com/795788957/144448252e [external link] _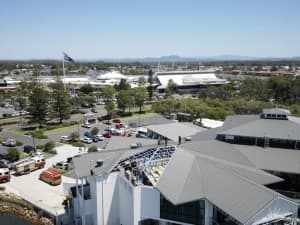 Updated: 04 Feb 2023 03:53pm
Related safety topics

Smoke alarms
It"s the law to have at least one working smoke alarm installed on every level of your home.

Escape plans
Having a home escape plan and a working smoke alarm increases your chances of getting out safely.
Stations nearby
PORT MACQUARIE Fire Station
5 Central Rd, Port Macquarie NSW 2444
WAUCHOPE Fire Station
22 Young Street, Wauchope NSW 2446
LAURIETON Fire Station
33 Castle Street, Laurieton NSW 2443