Incidents and warnings
Fire and Rescue NSW crews extinguish intense house fire - VIDEO - Airds
Fire and Rescue NSW crews extinguish intense house fire - VIDEO - Airds
Published: 20 Apr 2023 03:08pm
Fire and Rescue NSW (FRNSW) crews have battled for more than an hour to extinguish a blaze which destroyed a home in Sydney's south-west.
Twenty FRNSW firefighters were called in to attack the blaze which engulfed the two-storey property on Riverside Drive, Airds, just before 5am today.
The intensity of the fire and radiant heat made conditions too dangerous for crews to enter the building to conduct a search for potential occupants.
They stopped the inferno from spreading to adjoining homes before accessing and dousing the main seat of the fire.
The blaze was extinguished just before 6:30am.
A subsequent search of the home confirmed no one was inside and there were no reports of any injuries.
The cause of the fire is being treated as suspicious.
The scene has now been handed over to NSW Police for further investigation.
_EDITOR'S NOTE: __Video footage of the Airds house fire is available for download - https://vimeo.com/819348386/466995012b [external link] _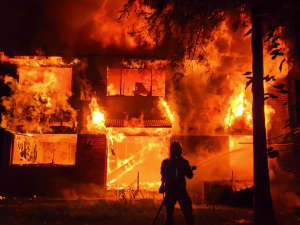 Updated: 20 Apr 2023 03:13pm
Related safety topics

Smoke alarms
It"s the law to have at least one working smoke alarm installed on every level of your home.

Escape plans
Having a home escape plan and a working smoke alarm increases your chances of getting out safely.
Stations nearby
CAMPBELLTOWN Fire Station
66 Broughton Street, Campbeltown NSW 2560
ROSEMEADOW Fire Station
1 Thomas Rose Drive, Rosemeadow NSW 2560
ST. ANDREWS Fire Station
9 Swettenham Road, St Andrews NSW 2566