Incidents and warnings
Fire and Rescue NSW continues to douse major fire in multi-storey building - Surry Hills
Fire and Rescue NSW continues to douse major fire in multi-storey building - Surry Hills
Published: 25 May 2023 06:01pm
Fire and Rescue NSW (FRNSW) has upgraded today's inferno in Surry Hills to a '10th alarm' status, the most severe type of fire.
More than 100 firefighters, from 20 fire trucks and multiple stations, continue to work to extinguish the blaze in two buildings on Randle Street.
At this stage, it is believed both impacted buildings have been vacant.
FRNSW crews have also been dousing smaller fires which threatened to spread to surrounding buildings, including residential apartments.
One firefighter has received a minor burn to his right arm.
He is being treated by NSW Ambulance paramedics at the scene but will not require hospital treatment.
Firefighting operations are expected to continue throughout the night.
The public is urged to avoid the area.
Register . Find . Unite Anyone who has been displaced by the Surry Hills building fire and has not yet registered, please do so via Register . Find . Unite https://register.redcross.org.au [external link]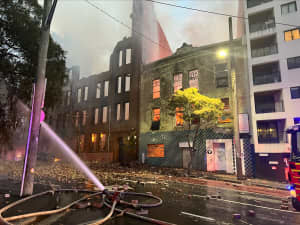 Updated: 26 May 2023 11:38am
Related safety topics

Smoke alarms
It"s the law to have at least one working smoke alarm installed on every level of your home.
Stations nearby
REDFERN Fire Station
113 George Street, Redfern NSW 2016
CITY OF SYDNEY Fire Station
211-217 Castlereagh Street, Sydney NSW 2000
DARLINGHURST Fire Station
100-102 Victoria Street, Darlinghurst NSW 2010