Incidents and warnings
Fire and Rescue NSW crews save cat stuck in wall cavity in Sydney's inner west - VIDEO - Marrickville
Fire and Rescue NSW crews save cat stuck in wall cavity in Sydney's inner west - VIDEO - Marrickville
Published: 01 Feb 2023 09:38am
Fire and Rescue NSW (FRNSW) firefighters have saved a curious cat which climbed into a wall cavity and became stuck, in Sydney's inner west.
Firefighters were called to a house in Sydenham Road at Marrickville around 5:15pm yesterday after a resident heard the animal, thought to belong to a neighbour, meowing.
FRNSW crews attempted to rescue the wayward feline by delicately using an 'animal catch pole', which has a wire loop and auto-lock.
When that failed, they tried looping rope around the cat's legs to gently release it from the tight and awkward space.
Ultimately, rescuers had to use tools including grinders, power saws and drills to cut a hole in the wall to reach the clumsy critter and lift it to safety.
The operation took approximately two hours to complete.
Firefighters offered their new furry friend a sip of water and reassuring cuddles, before letting it find its own way home.
_EDITORS NOTE: _Video of the rescue operation is available via this web link - _https://vimeo.com/794648363/9953084404 [external link] _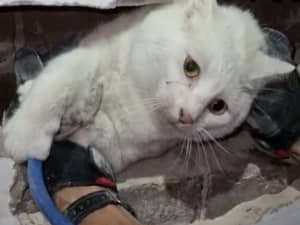 Updated: 08 Feb 2023 05:05pm
Related safety topics

Smoke alarms
It"s the law to have at least one working smoke alarm installed on every level of your home.

Escape plans
Having a home escape plan and a working smoke alarm increases your chances of getting out safely.
Stations nearby
MARRICKVILLE Fire Station
309 Marrickville Road, Marrickville NSW 2204
NEWTOWN Fire Station
214-216 Australia Street, Newtown NSW 2042
LEICHHARDT Fire Station
1 Marion Street, Leichhardt NSW 2040