Incidents and warnings
Fire destroys abandoned townhouses - VIDEO - Claymore
Fire destroys abandoned townhouses - VIDEO - Claymore
Published: 30 Sep 2022 11:38am
Fire and Rescue NSW (FRNSW) crews have been called back to two adjoining townhouses in Sydney's south-west, which were gutted by fire overnight, after rubble began to reignite.

Firefighters were called to Abrahams Road, Claymore just after midnight following reports that two double-storey buildings were engulfed in flames.

Both properties were vacant and slated for demolition.

The blaze was so fierce it took two hours of intense firefighting for it to be extinguished.

Around 8:30am, FRNSW resources were again deployed to the site after small fires began to flare among the remnants of the properties.

The reignitions have since been extinguished.

NSW Police are now investigating the cause of the fire.

EDITORS NOTE: Photos and video relating to this incident is available via the FRNSW website.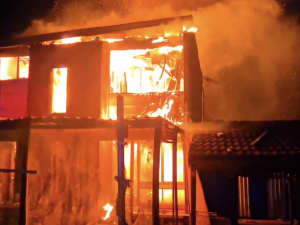 Updated: 30 Jan 2023 09:14pm
Stations nearby
CAMPBELLTOWN Fire Station
66 Broughton Street, Campbeltown NSW 2560
ST. ANDREWS Fire Station
9 Swettenham Road, St Andrews NSW 2566
NARELLAN Fire Station
12 Exchange Parade, Smeaton Grange ( Narellan) NSW 2567