Incidents and warnings
Mega warehouse blaze underway - Wickham
Mega warehouse blaze underway - Wickham
Published: 01 Mar 2022 02:37pm
Fire and Rescue NSW (FRNSW) has deployed more than one hundred firefighters and 30 firetrucks to battle a major blaze underway at Newcastle.

Firefighters have set up an exclusion zone for safety as the fire tears through a four-storey mega warehouse on Annie Street in Wickham.

FRNSW crews assisted evacuating workers after the fire broke out just after 2:30 pm this afternoon.

Electrical and gas authorities have been contacted to isolate the utilities.

An adjoining oil terminal is being monitored and protected by crews on scene.

Residents in the area are urged to take the following precautions:

• Anyone with respiratory conditions should limit their exposure to smoke outdoors – if shortness of breath occurs, take reliever medicine or seek medical assistance
• Ensure windows and doors are closed to prevent smoke infiltration
• Removing any washing from clotheslines

Superintendent Adam Dewberry from Fire and Rescue NSW (FRNSW) said this is a timely reminder that calling Triple Zero (000) for a fire emergency can be the difference between life and death, or a building or other property being saved or destroyed.

The Triple Zero (000) service is the quickest way to get the right resources from emergency services to help you. It should be used to contact Police, Fire or Ambulance services in life-threatening or time-critical situations.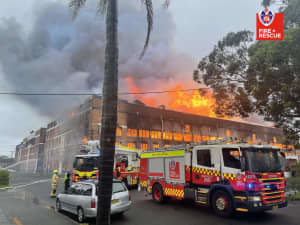 Updated: 30 Jan 2023 09:14pm
Stations nearby
CARRINGTON Fire Station
49 - 51 Young Street, Carrington NSW 2294
NEWCASTLE Fire Station
44 Union Street, Newcastle NSW 2300
MEREWETHER Fire Station
39 Llewellyn Street, Merewether NSW 2291