Incidents and warnings
Rescue Incident - Breakfast Point
Rescue Incident - Breakfast Point
Published: 25 Jun 2021 12:03pm
Fire and Rescue NSW (FRNSW) crews from Concord and Burwood rescued a 72-year-old man who had fallen from a mobility scooter into the Parramatta River at Breakfast Point today.

FRNSW received a Triple Zero (000) call at 12.03pm after the man had fallen off the scooter down a 2.5 metre stone embankment into the river.

Using vertical rescue equipment, rescuers accessed the site and placed the man in a stretcher. 

The crews also used folding ladder, placed either side of a plywood sheet, so the stretcher could slide easily up the stony slope.

FRNSW worked with NSW Ambulance paramedics to maintain physical contact with the stretcher and the patient during the rescue.

The man was taken to hospital for treatment.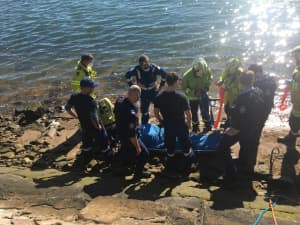 Updated: 30 Jan 2023 09:15pm
Stations nearby
CONCORD Fire Station
153 Concord Road, Concord (North Strathfield) NSW 2137
GLADESVILLE Fire Station
7a Pittwater Road, Gladesville NSW 2111
RHODES Fire Station
438 Concord Road, Rhodes NSW 2138