Incidents and warnings
Truck Crash - Tumblong
Truck Crash - Tumblong
Published: 23 Jun 2021 08:37pm
Fire and Rescue NSW (FRNSW) attended the scene of a two truck crash at the intersection of Hume Highway and Old Hume Highway at Tumblong around 8.30pm last night

One tanker rolled and was leaking a load of 28,000 litres of liquid glucose.

FRNSW used sand to create dams to stop the run off. South-bound lanes were blocked and one driver was treated by NSW Ambulance.

NSW Police and the NSW Rural Fire Service (RFS) were also in attendance.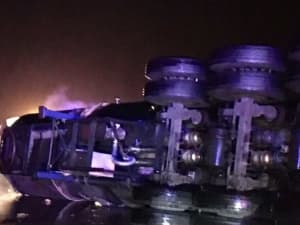 Updated: 25 Oct 2022 02:41pm