Incidents and warnings
Structure Fire - Stanmore
Structure Fire - Stanmore
Published: 10 Jun 2021 02:35pm
Just after 2:30pm, Fire and Rescue NSW responded to numerous Triple Zero (000) calls about large amounts of smoke issuing from an underground carpark on Trafalgar St, Stanmore.

Firefighters arrived to find black smoke issuing from the carpark, with a car and small storage room well alight. Due to the location of the fire and an electrical hazard, battling the blaze was initially difficult.

more than 20 firefighters worked to extinguish the fire.

One storage unit and one car were destroyed in the blaze and 14 residential units were damaged by smoke and heat.

Investigations into the cause of the fire are continuing.

NSW Police and NSW Ambulance were also in attendance.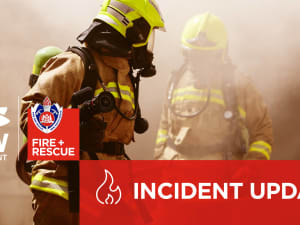 Updated: 30 Jan 2023 09:15pm
Related safety topics

Common home fires
If you do your bit to minimise the risks in your home, we can all stay safer together.

High-rise fire safety
The best way to keep you and your family safe is to prevent fires from occurring and know what to do in case of a fire.
Stations nearby
NEWTOWN Fire Station
214-216 Australia Street, Newtown NSW 2042
LEICHHARDT Fire Station
1 Marion Street, Leichhardt NSW 2040
MARRICKVILLE Fire Station
309 Marrickville Road, Marrickville NSW 2204