Incidents and warnings
Hazmat Incident - Calala
Hazmat Incident - Calala
Published: 18 May 2021 11:14am
Fire and Rescue NSW (FRNSW) is currently on the scene of a large gas leak from a 4000L gas cylinder at an agricultural research facility on Marsden Park Road, Calala, which occurred shortly after 11am today.

On arrival FRNSW liaised with site staff and determined the cylinder was leaking from an over pressure relief valve on the top of the cylinder.

Firefighters isolated the area and switched off power supplies and evacuated 50 people from the site.

Firefighters are cooling the cylinder to reduce internal temperature and reduce the pressure in the cylinder.

NSW Rural Fire Service is also in attendance.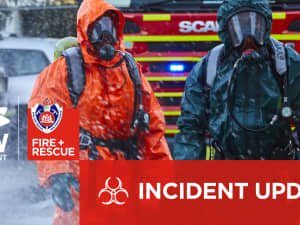 Updated: 30 Jan 2023 09:15pm
Related safety topics

BBQ and outdoor heaters
Learn about LPG & gas cylinder safety.
Stations nearby
SOUTH TAMWORTH Fire Station
9-11 The Ringers Road, Hillvue NSW 2340
TAMWORTH Fire Station
103 Carthage Street, Tamworth NSW 2340
WERRIS CREEK Fire Station
11 Coronation Ave, Werris Creek NSW 2341