Incidents and warnings
Rescue Incident - Mosman
Rescue Incident - Mosman
Published: 16 May 2021 12:30pm
Fire and Rescue NSW (FRNSW) crews working together with NSW Police and NSW Ambulance rescued an elderly female walker who had broken her ankle on a walking track at Bradleys Head, Mosman yesterday.

FRNSW rescuers were called to the scene at 12.30pm and with Police and Ambulance crews located the patient 150 metres down the track.

Crews worked together to safely remove her from the track using FRNSW rescue equipment, while paramedics administered pain relief.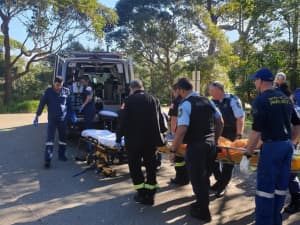 Updated: 30 Jan 2023 09:15pm
Stations nearby
MOSMAN Fire Station
730 Military Road, Mosman NSW 2088
NEUTRAL BAY Fire Station
28 Yeo Street, Neutral Bay NSW 2089
CROWS NEST Fire Station
99 Shirley Road, Crows Nest NSW 2065