Incidents and warnings
Kitchen Fire - Campbelltown
Kitchen Fire - Campbelltown
Published: 15 Jan 2021 12:58pm
Fire and Rescue NSW (FRNSW) extinguished a kitchen fire in a townhouse on Sturt Street, Campbelltown after a Triple Zero (000) caller reported an alarm operating and smoke issuing from the home at 12.58pm.

Crews from Campbelltown and Rosemeadow fire stations arrived shortly after and quickly extinguished a fire in the kitchen preventing further damage to the structure.

The home was unoccupied at the time of the incident and it is unclear as to what caused the fire.


Superintendent Adam Dewberry from Fire and Rescue NSW (FRNSW) said the leading cause of house fires in NSW is leaving cooking unattended and it was important the community remembered to keep looking when cooking.

"If your cooking catches fire, never use water to put out a fat or oil fire, turn off the stove if it is safe to do so and call Triple Zero (000)."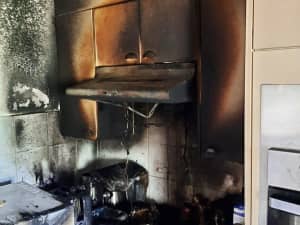 Updated: 30 Jan 2023 09:15pm
Related safety topics

Cooking fire safety
The leading cause of home fires in NSW is leaving cooking unattended.

Smoke alarms
It"s the law to have at least one working smoke alarm installed on every level of your home.

Escape plans
Having a home escape plan and a working smoke alarm increases your chances of getting out safely.
Stations nearby
CAMPBELLTOWN Fire Station
66 Broughton Street, Campbeltown NSW 2560
ROSEMEADOW Fire Station
1 Thomas Rose Drive, Rosemeadow NSW 2560
NARELLAN Fire Station
12 Exchange Parade, Smeaton Grange ( Narellan) NSW 2567