Incidents and warnings
Hay Shed Fire - Temora
Hay Shed Fire - Temora
Published: 31 Dec 2020 01:58am
Just before 2am this morning Fire and Rescue NSW got a call from a train driver reporting a building fire approximately 300m from the railway station in Temora.

On arrival Fire and Rescue Crews from Temora found a large shed adjacent to the railway station approximately 100m x 20m to be alight. Crews got to work to gain access.

Shortly after Temora gained access at the south end of the building and found a large stack of hay inside to be well alight. RFS was also in attendance.

Crews from both stations set up three monitors to attack the fire. Whilst Police NSW was called to help close roads and door knock neighbouring houses on the western side of the building to notify them of large smoke plume in the area and to keep windows and doors closed.

Fire and Rescue NSW alongside RFS continued to fight the blaze. Hazmat was called to monitor the water runoff, whilst an excavator was called in to help assist with firefighting operations, breaking down the shed. Hand lines were set up and started to make effect on the fire.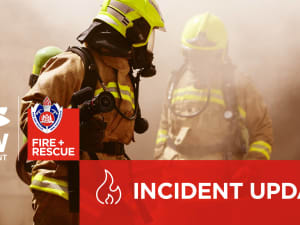 Updated: 30 Jan 2023 09:15pm
Related safety topics

Smoke alarms
It"s the law to have at least one working smoke alarm installed on every level of your home.

Escape plans
Having a home escape plan and a working smoke alarm increases your chances of getting out safely.
Stations nearby
TEMORA Fire Station
147 De Boos Street, Temora NSW 2666
JUNEE Fire Station
Lisgar Street, Junee NSW 2663
COOTAMUNDRA Fire Station
14 - 16 Adams Street, Cootamundra NSW 2590