Incidents and warnings
Lightning Strike Causes Gas Explosion - Telopea
Lightning Strike Causes Gas Explosion - Telopea
Published: 29 Dec 2020 07:10am
Just after 7am this morning Fire and Rescue NSW were called to reports of an explosion, possibly caused by a lightning strike.

On arrival fire crews from Eastwood and Rydalmere found a domestic gas main had ruptured and was on fire, impacting the house.

Firefighters used hose lines to keep the area cool, while another crew checked that all people were out of the house.

A gas technician is now in attendance and will work with firefighters to shut the gas down and repair the pipe.

NSW Police is also in attendance and was assisting with road closures.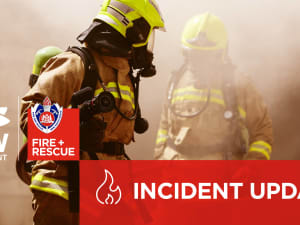 Updated: 30 Jan 2023 09:15pm
Related safety topics

Smoke alarms
It"s the law to have at least one working smoke alarm installed on every level of your home.

Escape plans
Having a home escape plan and a working smoke alarm increases your chances of getting out safely.
Stations nearby
RYDALMERE Fire Station
75 Park Road, Rydalmere NSW 2116
EASTWOOD Fire Station
269 Rowe Street, Eastwood NSW 2122
PARRAMATTA Fire Station
110-114 Wigram Street, Harris Park (Parramatta) NSW 2150