Incidents and warnings
Two Car Crash - Salt Ash
Two Car Crash - Salt Ash
Published: 21 Dec 2020 02:30pm
At 23.0pm Fire and Rescue NSW responded to a multi vehicle crash with a passenger trapped on Nelsons Bay Road Southbound.

In a multi agency response NSW Ambulance, NSW Police and the Rural Fire Service also responded to the incident. All occupants were conscious and breathing, however one occupant was trapped in vehicle due to sustained injuries and confined space due to crash.

The passenger was safely extricated from the car before being handed over to NSW Ambulance for further treatment.

Traffic southbound is heavily affected as emergency services continue to make the area safe.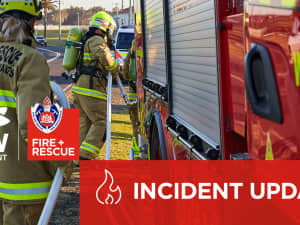 Updated: 30 Jan 2023 09:15pm
Stations nearby
RAYMOND TERRACE Fire Station
3-5 Leisure Way, Raymond Terrace NSW 2324
STOCKTON Fire Station
36 Hereford Street, Stockton NSW 2295
SALAMANDER BAY Fire Station
194 Salamander way, Salamander Bay NSW 2317