Incidents and warnings
Truck fire - Thirlmere
Truck fire - Thirlmere
Published: 07 Dec 2020 02:30pm
Just after 2.30pm today Fire and Rescue NSW operators received reports of a truck on fire on Oaks Rd Thirlmere.

Crews from both Picton and Camden Fire Stations responded to the scene along with crews from the NSW Rural Fire Service. Upon arrival firefighters found a prime mover truck well alight and were able to quickly contain the fire.

Specialist HAZMAT crews from Rosemeadow and Chester Hill Fire Stations were also able to contain a large diesel spill which had been leaking from the truck as a result of the fire.

Hundreds of litres of the diesel were decanted and the area was rendered safe just after 4.30pm.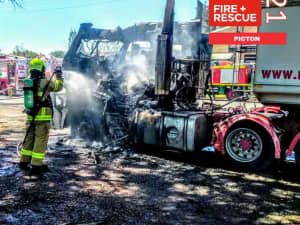 Updated: 30 Jan 2023 09:15pm
Stations nearby
PICTON Fire Station
435 Argyle Street, Picton NSW 2571
CAMDEN Fire Station
129 Macarthur Road, Camden (Elderslie) NSW 2570
ROSEMEADOW Fire Station
1 Thomas Rose Drive, Rosemeadow NSW 2560