Incidents and warnings
Bush Fire - Faulconbridge
Bush Fire - Faulconbridge
Published: 29 Nov 2020 03:26pm
Just before 3:30pm this afternoon Fire and Rescue NSW crews from the Blue Mountains area are responding to a bush fire in Urama Estate, Faulconbridge.

The Rural Fire Service (RFS) was also in attendance and supplying multiple trucks and tankers.

National Parks and Wildlife supplied air support and Helicopter nearby.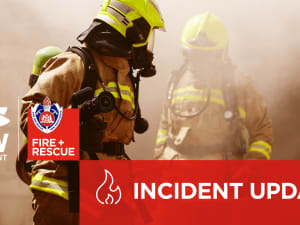 Updated: 30 Jan 2023 09:15pm
Related safety topics

Do you have a bushfire plan?
Most people have a plan for what they will do during a bushfire. Unfortunately, not every plan will withstand the test of a bushfire. Take 5 minutes to improve or make a plan at www.myfireplan.com.au [external link]
Stations nearby
SPRINGWOOD Fire Station
282 Macquarie Street, Springwood NSW 2777
LAWSON Fire Station
306-307 Great Western Highway, Lawson NSW 2783
GLENBROOK Fire Station
21 Wascoe Street, Glenbrook NSW 2773