Incidents and warnings
Machinery Fire - Wee Waa
Machinery Fire - Wee Waa
Published: 09 Nov 2020 02:39pm
Just after 2:30pm Monday 9 November, Fire and Rescue NSW responded to a grain storage facility on Trucking Yards Lane, Wee Waa after receiving a Triple Zero (000) call reporting a machinery fire.

Crews from Wee Waa and Narrabri Fire Stations arrived on scene to find smoke issuing from a bucket elevator on top of six joined concrete silos, storing barley grain.

As a precaution, firefighters established exclusion zones around the site, evacuated staff from a nearby cotton plant and closed the train line running through the area.

Due to the difficult nature of the fire, firefighters from both Fire and Rescue NSW and the NSW Rural Fire Service worked for over three hours to contain the fire preventing further spread.

NSW Ambulance were also in attendance however no injuries have been reported.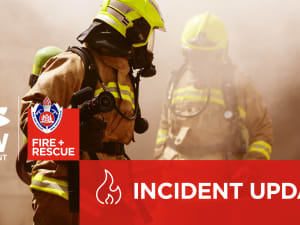 Updated: 30 Jan 2023 09:15pm
Stations nearby
WEE WAA Fire Station
56 Rose Street, Wee Waa NSW 2388
NARRABRI Fire Station
2 Doyle Street, Narrabri NSW 2390
BOGGABRI Fire Station
175 Merton Street, Boggabri NSW 2382