Incidents and warnings
Truck Crash - Holroyd
Truck Crash - Holroyd
Published: 02 Nov 2020 08:40pm
Just after 8:30pm Monday 2 November, Fire and Rescue NSW responded to the M4 Western Motorway near Church Street, Holroyd after receiving reports of a truck crash.

Crews from Wentworthville, Parramatta and Eastwood Fire Stations arrived on scene to find one truck overturned causing the male driver to be trapped.

Firefighters worked to remove the windscreen of the truck to access the driver, and under the guidance of NSW Ambulance were able to free the man.

NSW Ambulance treated the driver on scene, before transporting to hospital.

The incident was then handed over to NSW Police for recovery of the vehicle.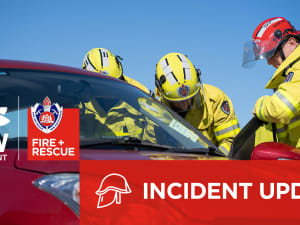 Updated: 30 Jan 2023 09:15pm
Stations nearby
MERRYLANDS Fire Station
340 Merrylands Road, Merrylands NSW 2160
PARRAMATTA Fire Station
110-114 Wigram Street, Harris Park (Parramatta) NSW 2150
GUILDFORD Fire Station
263 Guildford Road, Guildford NSW 2161