Incidents and warnings
Truck/Car Crash - Persons Trapped - Dubbo
Truck/Car Crash - Persons Trapped - Dubbo
Published: 08 Oct 2020 02:37pm
Shortly after 2:30pm, Fire and Rescue NSW responded to an incident on Bourke Street, Dubbo after being alerted to a crash involving a truck and car.

Crews from Dubbo Fire Station arrived on scene to find a serious crash involving a truck and car with one person trapped.

Firefighters set up fire protection lines as a precaution and worked with the NSW Volunteer Rescue Association to rescue one person from the wreck.

Two people were treated on scene by NSW Ambulance and one was transported to hospital.

NSW Police directed traffic in the area until the incident was cleared.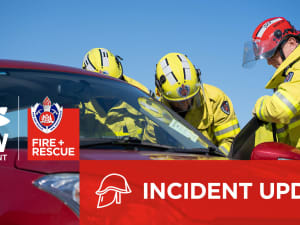 Updated: 30 Jan 2023 09:15pm
Stations nearby
DELROY Fire Station
15 Whylandra Street, Delroy (Dubbo) NSW 2830
DUBBO Fire Station
102 Wheelers Lane, Dubbo NSW 2830
NARROMINE Fire Station
39 Burroway Street, Narromine NSW 2821