Incidents and warnings
BBQ Fire - Campbelltown
BBQ Fire - Campbelltown
Published: 14 Aug 2020 10:00am
Fire and Rescue NSW crews from St Andrews fire station were called to a gas leak yesterday morning around 10am

On arrival Fire and Rescue NSW crews received information that a BBQ had been alight on a level second level balcony.

The unit was entered and a BBQ was found on the balcony. The fire had been extinguished but a 9kg gas cylinder was venting

The cylinder was unable to be turned off due to being damaged by fire.

Fire and Rescue NSW Station monitored the cylinder until it was depressurisation.

The fire had been caused by an incorrectly fitted gas regulator.


Superintendent Adam Dewberry from Fire and Rescue NSW (FRNSW) said FRNSW is attending numerous house fires and that it was a timely reminder for residents to develop their fire escape plan.

"Now is the time for residents to check they have a working smoke alarm and that all members of the family have an awareness of calling Triple Zero (000) in an emergency," he said.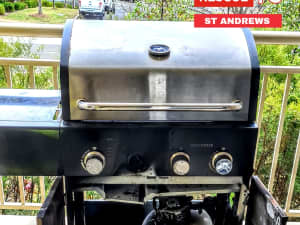 Updated: 30 Jan 2023 09:15pm
Related safety topics

Smoke alarms
It"s the law to have at least one working smoke alarm installed on every level of your home.

Escape plans
Having a home escape plan and a working smoke alarm increases your chances of getting out safely.

BBQ and outdoor heaters
Learn about LPG & gas cylinder safety.

High-rise fire safety
The best way to keep you and your family safe is to prevent fires from occurring and know what to do in case of a fire.
Stations nearby
CAMPBELLTOWN Fire Station
66 Broughton Street, Campbeltown NSW 2560
ROSEMEADOW Fire Station
1 Thomas Rose Drive, Rosemeadow NSW 2560
NARELLAN Fire Station
12 Exchange Parade, Smeaton Grange ( Narellan) NSW 2567