Incidents and warnings
House fire - Raymond Terrace
House fire - Raymond Terrace
Published: 29 Jun 2020 07:07am
Fire and Rescue NSW crews from Hamlyn Terrace and Tarro attended a house fire on Dalyell Way, Raymond Terrace this morning.

Crews arrived just after 7am to find a fire had started in the bathroom after a heat lamp had over heated and caught alight.

Firefighters were able to use a thermal imaging camera to ensure the fire had not spread throughout the house.


Superintendent Adam Dewberry from Fire and Rescue NSW (FRNSW) said FRNSW is attending numerous house fires and that it was a timely reminder for residents to develop their fire escape plan.

"Now is the time for residents to check they have a working smoke alarm and that all members of the family have an awareness of calling Triple Zero (000) in an emergency," he said.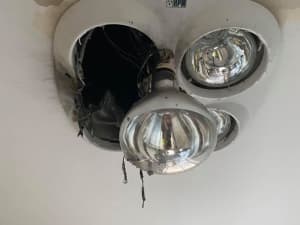 Updated: 30 Jan 2023 09:15pm
Related safety topics

Smoke alarms
It"s the law to have at least one working smoke alarm installed on every level of your home.

Escape plans
Having a home escape plan and a working smoke alarm increases your chances of getting out safely.
Stations nearby
RAYMOND TERRACE Fire Station
3-5 Leisure Way, Raymond Terrace NSW 2324
TARRO Fire Station
8 Eastern Avenue, Tarro NSW 2322
MORPETH Fire Station
169 Swan Street, Morpeth NSW 2321