Incidents and warnings
Neighbour Rescues two from House Fire - Updated - Killarney Heights
Neighbour Rescues two from House Fire - Updated - Killarney Heights
Published: 10 Jun 2020 09:00pm
5:20am 11 June

It took over 22 firefighters working from 6 fire engines an hour to knockdown the fire. Salvage and overhaul operations then continued into the early hours this morning.

3 people were transported to hospital, this included two occupants of the house who were rescued by their neighbour who was also transported by NSW Ambulance.

9pm 10 June

Fire and Rescue NSW crews from across Sydney's Northern Beaches are in attendance at a confirmed house fire in Killarney Heights.

Two sets of two firefighters have entered the burning building with hose lines and Breathing Apparatus and are working to search for occupants and extinguish the fire.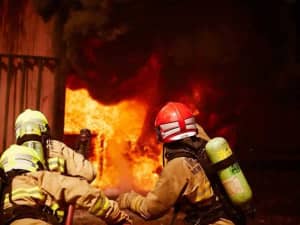 Updated: 30 Jan 2023 09:15pm
Related safety topics

Smoke alarms
It"s the law to have at least one working smoke alarm installed on every level of your home.

Escape plans
Having a home escape plan and a working smoke alarm increases your chances of getting out safely.
Stations nearby
FORESTVILLE Fire Station
8 Cook Street, Forestville NSW 2087
WILLOUGHBY Fire Station
53 Laurel Street, Willoughby NSW 2068
LANE COVE Fire Station
55-57 Dickson Ave, Artarmon NSW 2064