Incidents and warnings
Truck Fire - Mooney Mooney
Truck Fire - Mooney Mooney
Published: 02 Jun 2020 01:09pm
Fire and Rescue NSW crews are working with the Rural Fire Service to extinguish a truck on fire on the M1. An area of bush has also been extinguished.

All northbound lanes on the M1 are currently affected and traffic is heavy with significant delays expected.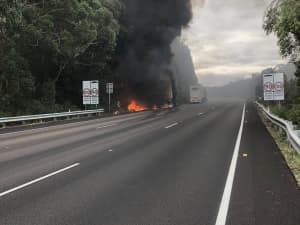 Updated: 30 Jan 2023 09:15pm
Related safety topics

Do you have a bushfire plan?
Most people have a plan for what they will do during a bushfire. Unfortunately, not every plan will withstand the test of a bushfire. Take 5 minutes to improve or make a plan at www.myfireplan.com.au [external link]
Stations nearby
UMINA Fire Station
55-59 Trafalgar Ave, Umina NSW 2256
BEROWRA Fire Station
9 Berowra Waters Road, Berowra NSW 2081
KARIONG Fire Station
1 Central Coast Highway, Kariong NSW 2250