Media centre
About the program
About the program
PFAS and Firefighting Foam
PFAS are a class of manufactured chemicals generally present in aqueous film forming foam (AFFF). AFFF is a firefighting foam that has been used extensively worldwide, and within Australia, from about the 1970s by both civilian and military authorities due to its effectiveness in extinguishing liquid fuel fires. The term PFAS relates to a large number of chemical substances, with the primary PFAS compounds of interest to the investigations including perfluorooctane sulfonate (PFOS), perfluorohexane sulfonate (PFHxS), and perfluorooctanoic acid (PFOA).
In 2007, FRNSW phased out its use of legacy AFFF containing PFOS and PFOA as active ingredients. The firefighting foam now used by FRNSW is a more environmentally safe product and does not contain PFAS.
PFAS and the Environment
As well as firefighting foams, PFAS compounds have been used in the manufacture of common household and industrial goods. These include stain resistant applications for furniture and carpets, fast food or packaged food containers, make up, personal care products and cleaning products.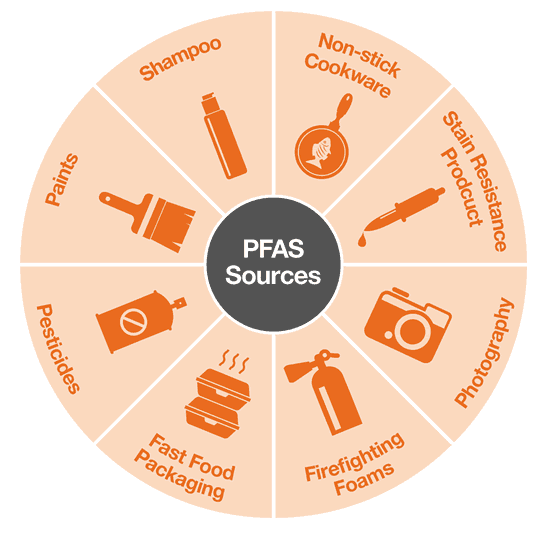 Due to its widespread use, most people living in developed nations will likely have some level of PFOS and PFOA in their body. Because these chemicals persist in humans and the environment the Environmental Health Standing Committee (enHealth) recommends that human exposure to these chemicals is minimised as a precaution. There is currently no consistent evidence that exposure to PFAS causes adverse human health effects.
Further information
Please refer to the Investigation Sites page for more information relating to the sites FRNSW is investigating.
For further information or enquiries please refer to the contacts page.
Further information on PFAS and the PFAS investigation program being undertaken by the NSW Environment Protection Authority (EPA) can be found on the EPA website at www.epa.nsw.gov.au/Mediainformation/pfasinvestigation.htm.
If you would like to talk to the NSW EPA please call the Environment Line on 131 555.