Incidents and warnings
Fire and Rescue NSW crews use technology and tuna to rescue kitten from drain - VIDEO - Greenacre
Fire and Rescue NSW crews use technology and tuna to rescue kitten from drain - VIDEO - Greenacre
Published: 07 Mar 2023 02:53pm
High-tech cameras, a tin of tuna and old-fashioned firefighting muscle have combined to allow Fire and Rescue NSW (FRNSW) to save a wayward kitten in Greenacre, in Sydney's south-west.
Roadworkers found the animal stuck in a drain on Roberts Road, after hearing its distressed meows around 4:30am today.
They immediately called upon FRNSW crews to assist with its rescue.
Firefighters initially tried crouching down and reaching into the drain pipe, having carried out a risk assessment and installed safety measures including continual gas monitoring.
However, the playful critter decided not to make it a straightforward rescue, retreating back into the pipe every time crews were on the cusp of reaching it.
Firefighters decided to 'fish' the kitten out instead, using a tin of tuna to coax it to the edge of the pipe, and tracking its movements with a thermal imaging camera.
Around an hour into the delicate operation, the animal came close enough for a firefighter with cat-like reflexes to lift it to safety.
It was established the kitten was a stray.
One of the roadworkers has now decided to adopt it, allowing it to live out its remaining eight lives in comfort.
EDITORS NOTE:_ Video footage of the kitten rescue is available for download via the following web link: https://vimeo.com/805358898/fad93ef1e6 [external link] _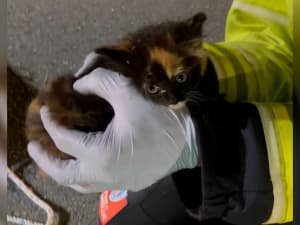 Updated: 07 Mar 2023 02:57pm
Stations nearby
BANKSTOWN Fire Station
353 Liverpool Road, Bankstown NSW 2200
LAKEMBA Fire Station
210 Haldon Street, Lakemba NSW 2195
CAMPSIE Fire Station
294 - 296 Beamish Street, Campsie NSW 2194