Incidents and warnings
Fire and Rescue NSW (FRNSW) Graduation media release #1 - Orchard Hills
Fire and Rescue NSW (FRNSW) Graduation media release #1 - Orchard Hills
Published: 17 Dec 2021 10:00am
Higher learning for former Teacher and Pupil
 
When Simon Macauley gave up his teaching job to join Fire and Rescue NSW (FRNSW) earlier this year, he didn't expect to see a former pupil amongst his fellow recruits.
 
Although the 40-year-old didn't have Matt Brogan in his class at St John Bosco College at Engadine more than a decade ago, "We occasionally ran into each other in the playground and at assemblies," Simon recalled.
 
"He was always a well-behaved student with a cheeky side of course. "I'm sure there were a few times when I asked him to pick up some papers in the playground…"

Today the teacher from Wollongong and pupil from Sutherland are equals, graduating along with 213 other firefighters at the Emergency Services Academy at Orchard Hills, in Sydney's west.
 
"When we were actually in the foyer (of the Academy) on the first day, I saw his face and thought, "No way!" "It was a pleasant shock," Matt explained.

"One thing I do remember about Mr Macauley at school, he always had an interesting or funny tie on…every single day...he had a Spider-man tie or some sort of tie and we always asked him where he got his tie from.

"He used to tell us, "Tie-land"...so we stopped asking him."

Both recruits quickly realised their friendship helped to accelerate the bond between their entire academy class.

"As soon as Matthew and I saw each other…the conversation flowed really quickly just in the mess room and I think that engaged the rest of our class and within a week, it felt like our class dynamic was really good, like we'd all known each other for quite some time," Simon recalled.

Now the teacher 29-year-old Matt knew as "Mr Macauley" is simply "Macauley" and their friendship remains solid.

Simon still helps Matt with the book work…the student returns the favour with assistance in the gym…and if they end up being posted to the same fire station?

"We get along really well…we have good banter…it'd be great," Matt said.

"We'd have plenty of laughs between us, that's for sure," Simon replied.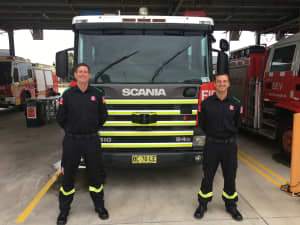 Updated: 30 Jan 2023 09:14pm
Stations nearby
PENRITH Fire Station
290-294 High Street, Penrith NSW 2750
REGENTVILLE Fire Station
2-6 Jeanette Street, Regentville NSW 2745
ST. MARYS Fire Station
1 Marsden Road, ST Marys NSW 2760