Incidents and warnings
Dog Rescue - Orange
Dog Rescue - Orange
Published: 31 Jul 2021 07:49pm
Fire and Rescue NSW (FRNSW) crews have rescued a dog which became stuck in a gate as he ran from the sound of fireworks.

Firefighters responded to a report of a dog stuck in a gate just before 8:00 pm last night at a property on Kenna Street in Orange. 

Garfield the Beagle had become spooked by local fireworks and became stuck. Garfield's owners were unable to free him. 

Firefighters from Orange Fire Station used specialist rescue tools to separate the metal gates and free Garfield, who appeared very happy to be reunited with his best doggo mate Lola and his owners.

A video of this rescue can be found using the link below.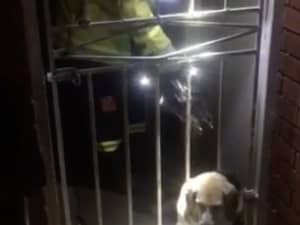 Updated: 30 Jan 2023 09:15pm
Stations nearby
ORANGE Fire Station
79 Summer Street, Orange NSW 2800
MOLONG Fire Station
100-104 Edward Street, Molong NSW 2866
BLAYNEY Fire Station
23 Church Street, Blaney NSW 2799