Incidents and warnings
Car Crash - Seven Hills
Car Crash - Seven Hills
Published: 15 Jun 2021 12:08pm
Fire and Rescue NSW (FRNSW) safely released two people trapped in their car following a three-vehicle crash on Prospect Highway at Seven Hills this afternoon.

FRNSW crews from Seven Hills and Wentworthville used specialist rescue equipment to free the two people by removing the side of one car.

The two people were transported to hospital by NSW Ambulance.

NSW Police remained on scene to manage traffic as the rescue took place.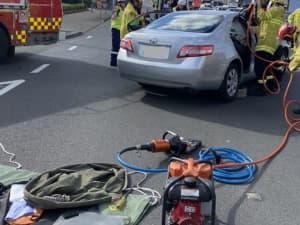 Updated: 30 Jan 2023 09:15pm
Stations nearby
SEVEN HILLS Fire Station
10 Leabons Lane, Seven Hills NSW 2147
BAULKHAM HILLS Fire Station
130 Seven Hills Rd, Baulkham Hills NSW 2153
WENTWORTHVILLE Fire Station
6 Garfield Street, Wentworthville NSW 2145