Incidents and warnings
Flash flooding - Nelson Bay
Flash flooding - Nelson Bay
Published: 18 Mar 2021 10:21am
Yesterday, Thursday 18 March, Fire and Rescue NSW firefighters from the Port Stephens area worked to clear over one metre of stormwater from an underground car park on Victoria Rd, Nelson Bay after the integrated pump system in the car park failed.

Following significant rainfall across NSW, Nelson Bay is one of many communities being impacted by flash flooding, stormwater and severe weather, which is predicted to continue over the coming days.

Firefighting crews were initially called to the flooding event just after 10.20am on Thursday, and worked for a number of hours to render the area safe, finishing up just after 4.30pm.

With Fire and Rescue NSW crews attending multiple flooding events this week, Superintendent Scott Dodson said it was imperative for people to remain vigilant, to stay out of floodwaters, and not to attempt to cross flooded waterways.

"Now is the time for residents to monitor weather conditions, and to immediately call Triple Zero (000) in an emergency," he said.

Vision of the incident can be found at the link below.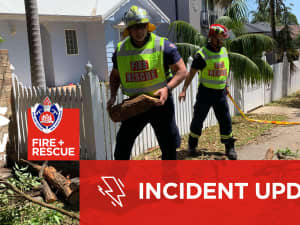 Updated: 30 Jan 2023 09:15pm
Stations nearby
SALAMANDER BAY Fire Station
194 Salamander way, Salamander Bay NSW 2317
TEA GARDENS Fire Station
135 Marine Drive, Tea Gardens NSW 2324
RAYMOND TERRACE Fire Station
3-5 Leisure Way, Raymond Terrace NSW 2324