Incidents and warnings
Fast Food Fire - Surry Hills
Fast Food Fire - Surry Hills
Published: 30 Jan 2021 09:50pm
Just before 10pm on Saturday 30 January, Fire and Rescue NSW (FRNSW) responded to Crown Street, Surry Hills after a Triple Zero (000) caller reported flames and smoke within a closed Take-Away Shop.

Multiple crews from fire stations across Sydney City arrived shortly after and confirmed a fire within the structure.

Firefighters were able to extinguish the fire quickly, preventing further fire spread and damage to the building.

No injuries were reported although NSW Ambulance attended the incident for firefighter safety.

Investigations into the cause of the fire are ongoing.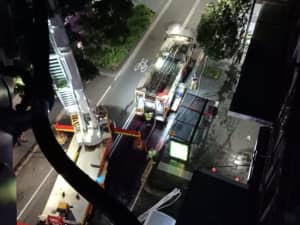 Updated: 30 Jan 2023 09:15pm
Stations nearby
REDFERN Fire Station
113 George Street, Redfern NSW 2016
CITY OF SYDNEY Fire Station
211-217 Castlereagh Street, Sydney NSW 2000
DARLINGHURST Fire Station
100-102 Victoria Street, Darlinghurst NSW 2010