Incidents and warnings
Bush Hiker Injured - Stanwell Park
Bush Hiker Injured - Stanwell Park
Published: 31 Dec 2020 01:52pm
Just before 2pm today Fire and Rescue NSW received a call to respond to a hiker involved in a fall on the Wodi Wodi track in Stanwell Park, Wollongong.

The patient involved was a 54 year old female who had reported to have slipped on some rocks and had suspected broken ankle after having some swelling to both her ankles and elbow.

Fire and Rescue NSW crew from Wollongong arrived on scene and worked along side Ambulance NSW and Police to locate the injured hiker and help transport that hiker to safety.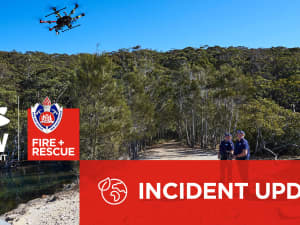 Updated: 30 Jan 2023 09:15pm
Stations nearby
HELENSBURGH Fire Station
91 Walker Street, Helensburgh NSW 2508
SCARBOROUGH Fire Station
Wilson Street, Scarborough NSW 2511
COLEDALE Fire Station
759 Lawrence Hargrave Drive, Coledale NSW 2513