Incidents and warnings
Factory Fire - Prestons
Factory Fire - Prestons
Published: 15 Nov 2020 02:51am
Just before 3.00am Sunday morning, Fire and Rescue NSW crews from South West Sydney responded to reports of a factory alight on Powdrill Rd, Prestons.

On arrival, crews found large volumes of smoke coming from the block of four factory units with a further hazard of powerlines down adjacent to the premises.

Approximately 12 fire trucks were called to this incident, and firefighters were able to extinguish the blaze in just over an hour.

Whilst the single level factory unit was severely damaged by fire, there was no fire spread to adjacent properties.

No injuries were reported at this incident.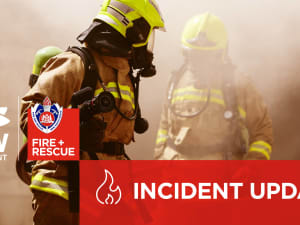 Updated: 30 Jan 2023 09:15pm
Related safety topics

High-rise fire safety
The best way to keep you and your family safe is to prevent fires from occurring and know what to do in case of a fire.
Stations nearby
BUSBY Fire Station
101 Cartwright Avenue, Busby NSW 2168
HORNINGSEA PARK Fire Station
162 Greenway Drive, Horningsea Park NSW 2171
MACQUARIE FIELDS Fire Station
8 Brooks Street, Macquarie Fields NSW 2564