Incidents and warnings
Residents escape fallen live wire catastrophe - Kearsley
Residents escape fallen live wire catastrophe - Kearsley
Published: 05 Jun 2020 05:32pm
Fire and Rescue NSW crews from Kearsley attended a call to live wires down on Friday evening.

Power to the area was not lost and the live wire was only noticed on the ground because residents saw it arching as the evening darkened. They then called Triple Zero (000).

It is not known how long the live wire was on the ground and nearby cars before it was noticed.

Crews arrived and established an exclusion zone until Ausgrid could arrive and replace the live fallen high voltage wire.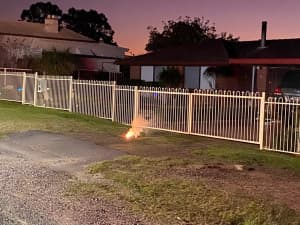 Updated: 30 Jan 2023 09:15pm
Stations nearby
KEARSLEY Fire Station
26 Allandale Street, Kearsley NSW 2325
CESSNOCK Fire Station
4 Edward Street, Cessnock NSW 2325
BELLBIRD Fire Station
44 Ruby Street, Bellbird NSW 2325