Permanent Firefighters
Permanent Firefighters
Applications for the 2014 Permanent Firefighter Recruitment Campaign have now closed.
Please note: Any technical difficulties or enquiries relating to the online assessment process to be directed to www.onetest.com.au/candidatesupport.
Fire & Rescue NSW Permanent Firefighter Recruitment campaign is designed to identify intelligent, fit, healthy and community-minded women and men to join its permanent firefighter ranks.
Our world-class emergency service organisation relies on highly skilled, ethical and professional individuals from a variety of backgrounds. We are looking for people who can commit to Fire & Rescue NSW's values and contribute to fire prevention and emergency responses.
Firefighting is one of the most important and rewarding careers you could have. Firefighters are respected community members; and being a firefighter provides you with the opportunity to make a real and ongoing difference to the community of NSW.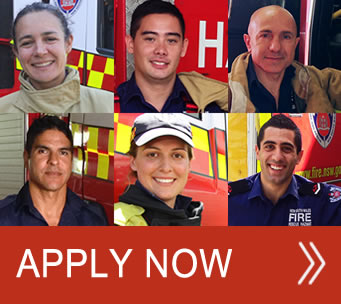 Please join us on Facebook or Twitter for regular updates on the recruitment campaign.

All information on being a Permanent Firefighter is contained on this website.
Some important points to note however are as follows:
If you applied in the 2013 PFF Campaign and want to be considered for the 2014 campaign you will need to reapply. Details can be found in the FAQ's
You must be an Australian Citizen, Permanent Resident or New Zealand citizen. If you are a firefighter from another country, you will still need to satisfy these requirements before applying.
You must have a minimum educational qualification at the level of HSC, Certificate III in any discipline or Trades Certificate.
You must have a minimum of a green P2 drivers licence.
If successful, on completion of recruit training you'll be stationed in the Sydney Metropolitan area. Opportunities for transfer to regional areas are limited.
You will need to submit a short resume outlining your work history and educational qualifications.
Your online assessment results will be verified as part of the interview process by completing a supervised test.
For enquiries please email: Recruitment@fire.nsw.gov.au
Meet our firefighters
Click on the photos below to view the Firefighter profiles.