Permanent Firefighters
Permanent Firefighters
Application dates for 2016 are yet to be established.
28 May - 2015 Recruitment Campaign update:
We're seeking intelligent, fit and healthy men and women from all walks of life and backgrounds who think they have what it takes to join the elite ranks of the State's professional firefighters. This year we are particularly reaching out to women, many of whom may never before have considered becoming a firefighter. Hundreds of women have taken this step over the last 30 years, and we're encouraging more to come forward to join our team.
We're partnering with Women and Firefighting Australasia (WAFA) [external link] to offer support to women considering a career at FRNSW. WAFA will hold practical information sessions for female applicants in Campbelltown, Richmond, Newcastle and Wollongong between 19 April and 9 May. See the WAFA Fire Fit PAT Preparation Session flyer (PDF) for more details.
Our world-class emergency service organisation relies on intelligent, highly skilled, ethical and professional individuals from all backgrounds. We are looking for people who can commit to FRNSW's values and contribute to our fire education and prevention programs, while working in close-knit teams to respond to a wide variety of emergency and disaster situations.
Fire and emergency prevention and response is one of the most important and rewarding careers imaginable. Firefighters are respected community members; and being a firefighter provides you with the opportunity to make a real and ongoing difference to the people of NSW, Australia, and the world (a team of 46 of our disaster rescue specialists recently returned from their mission in cyclone-ravaged Vanuatu).
If you're an intelligent, fit, healthy and community-minded man or woman looking for a unique challenge, now is the time to get prepared. We want to hear from you.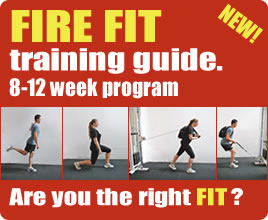 Please join us on Facebook or Twitter for regular updates on the recruitment campaign.

All information about the application process and working as a permanent firefighter is contained on this website.
Important points to note
You must be an Australian citizen, permanent resident or New Zealand citizen. If you are a firefighter from another country, you will still need to satisfy these requirements before applying.
You must have a minimum educational qualification at the level of HSC, Certificate III in any discipline or Trades Certificate.
You must have a minimum of a Provisional (green) P2 driver licence.
If successful, on completion of recruit training you'll be stationed in the Sydney metropolitan area. Opportunities for transfer to regional areas are limited.
Your online assessment results will be verified as part of the interview process by completing a supervised test.
Information and resources
Fire Fit Training Guide
This guide, created by exercise physiologists, will help you train specifically for the tasks involved in firefighting - and prepare you for Fire & Rescue NSW's Physical Assessment Test (PAT).
Physical Aptitude Test videos and information
The Physical Aptitude Test (PAT) is used to gauge if an applicant's level of fitness is suitable for a career as a firefighter. The PAT is a highly validated assessment designed specifically to identify and recruit individuals who are physiologically capable of tolerating the work-related stress of firefighting.
Fire & Rescue NSW Code of Conduct
Fire & Rescue NSW (FRNSW) is committed to the highest standards of conduct, honesty, ethical behaviour and fairness to support our reputation as a highly trusted organisation. This Code of Conduct establishes those standards for all FRNSW permanent, part-time and temporary employees and contractors.
Meet our firefighters
Click on the photos below to view the Firefighter profiles.
Enquiries
For enquiries please email recruitment@fire.nsw.gov.au or call (02) 9265 2633.