The Commissioner of Fire & Rescue NSW
The Commissioner of Fire & Rescue NSW
Commissioner Greg Mullins AFSM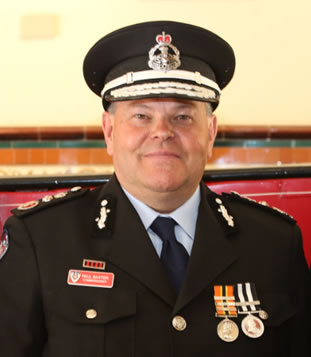 Greg Mullins was appointed as Commissioner of FRNSW on 4 July 2003. He is the first person in the history of the organisation to be appointed from the ranks as both Chief Fire Officer and CEO.
Mr Mullins joined FRNSW in 1978 after serving for six years as a volunteer firefighter with the NSW Bushfire Service (now Rural Fire Service). He rose steadily through the ranks serving in operational and specialist positions, becoming a Station Officer in 1990, a District Officer (Inspector) in 1992, a Superintendent in 1995, and an Assistant Commissioner in 1996. In 2000 he was appointed as Director State Operations. He has represented Australian fire services nationally and internationally on issues concerning emergency management, managing the consequences of terrorist attacks, and urban search and rescue.
Apart from his experience as a fire officer, in 1995 he was awarded a Churchill Fellowship to study fire services in the UK, Spain, France, Canada and the USA. In 1998, he completed a 12-month executive development secondment as a Project Manager with a major international industrial company.
Commissioner Mullins holds a Masters Degree in Management and Fire Engineering Diplomas. He is a Graduate of the Executive Fire Officer Program at the United States National Fire Academy and the Oxford Strategic Leadership Program. He is a Fellow and National Patron of the Institution of Fire Engineers, a Fellow of the Australian Institute of Management, and a Graduate of the Australian Institute of Company Directors. He has been awarded the Australian Fire Service Medal (AFSM), National Medal and two Clasps, NSWFB Long Service and Good Conduct Medal and two Clasps, Commissioner's Commendation for Courageous Action, Chief Officer's Commendation and St John Ambulance Emergency Services Award.
He is President of the Australasian Fire and Emergency Service Authorities Council (AFAC), Deputy Chair of the NSW State Emergency Management Committee and is the Australian Director of the International Fire Chiefs Association of Asia.