About us
Urban search and rescue (USAR)
Urban search and rescue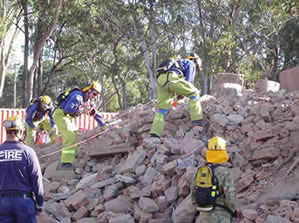 Urban search and rescue (USAR) is a specialist capability to locate, provide medical assistance to and remove victims who have been trapped or affected by a structural collapse.
A USAR Task force is a team of trained personnel including, rescuers, ambulance specialists, hazardous material technicians, trauma doctors and others. The NSW USAR task force combines specialist extrication and medical skills along with firefighting skills of entry, salvage and hazardous material response.
USAR is a key component of the state's ability to deal with the consequences of a terrorist attack, and Fire and Rescue NSW (FRNSW) plays a key role in training and providing tactical and strategic support to other states, territories and countries in the region.
FRNSW urban search and rescue expertise gives the State an internationally recognised structural collapse capability, and we are registered with the United Nations to respond to requests for international assistance.
We have integrated teams from other states and territories into our overall command-and-control structure. This ensures a seamless amalgamation of resources if ever required for a prolonged structural collapse.
We have also developed strategic partnerships with other emergency services and interstate fire and emergency services. We also assist with development of USAR capabilities in the Asia Pacific region.
The USAR course is conducted over three weeks culminating in a 48 hour exercise during the final week. The course focuses on the disciplines necessary for work in this type of environment. These include shoring, concrete breaking and cutting, and technical search.
Training
The training involved with Disaster Assistance Response Team (DART) work is categorised into three areas, which caters for all Emergency Services workers across Australia and gives us the ability to deploy competently trained personnel to any incident.
Category 1
Category 1 is directed at everybody involved with emergency work and is purely an addendum to Disaster Rescue Training. It is aimed at the ground troops that would be in position at the outset of the incident as the First Responder.
Category 2
Category 2 deals with the training of taskforce personnel, focussing on the necessary skills for long duration rescue operations, including technical search, shoring and concrete breaching, coupled with the ability to operate remotely for extended periods as was highlighted through our experiences at the Thredbo Landslide, Turkey and Taiwan Earthquakes. Fire and Rescue NSW have been identified in the Structural Collapse sub-plan as the agency to provide and coordinate the DART.
Personnel must complete the Brigades standard Category 2 course in order to be considered as a member of the New South Wales Taskforce/1 (NSWTF/1)... this also includes outside agencies such as the Police and Ambulance Services.
Category 3
Category 3 is directed at the command and control of the Taskforce ( not the incident ). It follows closely the structure of ICS and has been identified in the Structural Collapse sub-plan as a Fire and Rescue NSW Officer.
All categories compliment each other blending to form the response requirements for almost any major incident.
Within Australia, Category 2 operators are not directed to a specific service, within they facilitate the integration of the permanent services into a multi agency response, combining fire, ambulance and police.
Fire and Rescue NSW have been identified as the Coordinating and management authority for the NSW DART Taskforce, and as such is responsible for all deployments of the group.