Media centre
Fire Commissioner appoints new Captain and Deputy Captain for Brewarrina Fire Station
Fire Commissioner appoints new Captain and Deputy Captain for Brewarrina Fire Station
Published: 28th February 2008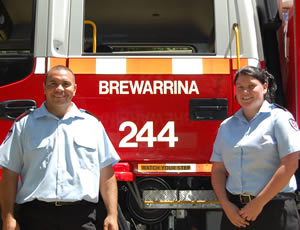 NSW Fire Brigades (NSWFB) Commissioner Greg Mullins today congratulated Retained Firefighters James Walsh and Patricia Mannix on their appointments as Captain and Deputy Captain of Brewarrina Fire Station.
Commissioner Mullins said it was an exciting day for the NSWFB and the community of Brewarrina.
"Two young and enthusiastic people have been appointed to the positions of Captain and Deputy Captain to serve the community of Brewarrina.
"James is also the second indigenous firefighter to be appointed to the position of Captain following the appointment of Captain Rodney Thorne in Walgett last year. This is a wonderful achievement."
Mr Walsh, who lives in Brewarrina with his wife and two children, said that he originally joined the NSWFB because he wanted to do something for the community and to learn new skills.
"In 2004 I joined my local community fire unit and a month later decided to apply to be a retained firefighter. I think that it is important to be involved in the local community and I thought that I could achieve that by becoming a firefighter.
"I also think that it's a good way to demonstrate to young people in the community the opportunities that are available to them if they are prepared take advantage of them," he said.
Ms Mannix, who was born and raised in Brewarrina, said she was looking forward to her new role.
"I only joined the NSWFB in August last year so it's a real honour to be given the responsibility of being Deputy Captain of a fire station. I work with a great group of people and I am looking forward to this new challenge and making a contribution to the community."