Media centre
Fire Brigade Captain gets Australia Day Award
Fire Brigade Captain gets Australia Day Award
Published: 26th January 2008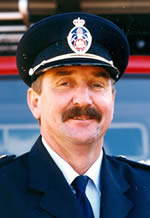 Captain Graham Parks from the NSW Fire Brigades' (NSWFB) Leeton Fire Station was today awarded the Australian Fire Service Medal (AFSM) as part of the 2008 Australia Day awards.
Congratulating him on his achievement, NSWFB Commissioner Greg Mullins said:
"Captain Parks works tirelessly to raise the profile of the NSWFB and fire safety awareness in the Leeton community, and has commanded operations at many serious emergencies over the years. I am delighted to that Graham's dedication has been officially recognised in this way."
Captain Parks became a retained (on call) firefighter at Leeton Fire Station in 1982 and was promoted to Deputy Captain in 1994. In 1995 he became Captain, the role he still holds to this day. As Captain of the Leeton Fire Brigade, he is responsible for the operation of the station, commanding emergency operations, and delivering fire safety and prevention programs to his community.
Commissioner Mullins said: "Captain Parks' drive and natural leadership ability mean that he is a highly respected and admired Officer. He has worked tirelessly to ensure that Leeton is protected by a modern and efficient Brigade."
Captain Parks has been at the forefront of delivery of some of NSWFB fire safety programs including SABRE, (smoke alarm battery replacement for the elderly), which was successfully trialled in the Leeton District and then implemented across the state. This program still runs in the area and regular checks are conducted for local senior and disadvantaged residents.
The NSWFB is a highly visible emergency service in Leeton, with Captain Parks encouraging his team to play an active role in the community, participating in local events and strengthening partnerships with other emergency services including the Police, Ambulance, Rural Fire Service, Volunteer Rescue Association and State Emergency Service.
On receiving his AFSM, Captain Parks said: "I'm honoured to receive this, the ultimate award that a firefighter can get. I'm so lucky to be part of the best Brigade in the state."
Australian Fire Service Medal recipients were announced by Governor-General Major General Michael Jeffery on Saturday. It is the highest award that an Australian firefighter can receive, and recognises outstanding service.