Media centre
NSW Fire Officer awarded Australia Day honour
NSW Fire Officer awarded Australia Day honour
Published: 26th January 2008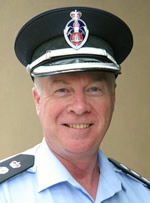 NSW Fire Brigades (NSWFB) Superintendent Thomas Milburn was today awarded the Australian Fire Service Medal in the Australia Day Honours announced by Governor-General, Major General Michael Jeffery.
The Australia Day award comes two months after Superintendent Milburn, a long time Falconbridge resident, was awarded the Australian Federal Police (AFP) Group Citation for Conspicuous Conduct for his actions during civil unrest in the Solomon Islands in 2006.
Superintendent Milburn has received a number of awards for long service with the NSWFB recognising his service to the organisation and the community. The Australian Fire Service Medal is the highest award for a firefighter in Australia and acknowledges outstanding service.
NSWFB Commissioner Greg Mullins today congratulated Superintendent Milburn and acknowledged his outstanding service.
"Superintendent Milburn has made a significant contribution to the NSWFB not only here in NSW but also representing the NSWFB overseas.
"He is an asset to the NSWFB and it is wonderful to see him receive recognition in the Australia Day honours," Commissioner Mullins said.
Since joining the NSWFB in 1977, Superintendent Milburn has steadily risen through the ranks, holding various operational and managerial positions, from firefighter through to a Principal Training Officer and Fire Safety Inspector. He has also worked as a Bushfire and Rescue Officer, Breathing Apparatus and Hazardous Materials Officer and as a Senior Supervisor at the State Fire Command.
In 2005 Superintendent Milburn was seconded to the position of Chief Fire Officer in the Solomon Islands as part of the Australian Government's contribution to the Regional Assistance Mission to the Solomon Islands (RAMSI). The skill and expertise he brought to the position resulted in the introduction of a number of training reforms and the improvement of equipment and facilities for local firefighters. As Chief Fire Officer in 2006, he was responsible for managing and directing all firefighting efforts during the civil unrest which saw Honiara's business district in flames.
He is currently responsible for overseeing 40 fire stations and over 600 firefighters from Castle Hill to Cabramatta and Parramatta to Portland, as acting Area Commander for Metropolitan West.