Media centre
Fire Commissioner congratulates retired Lismore fire officer on receiving award
Fire Commissioner congratulates retired Lismore fire officer on receiving award
Published: 9th May 2007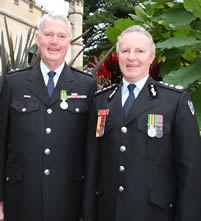 NSW Fire Brigades (NSWFB) Commissioner Greg Mullins has extended his congratulations to retired NSWFB Captain Des Fairfull who will be presented with the Australian Fire Service Medal (AFSM) today.
The Governor of NSW, Professor Marie Bashir AC, will present retired Captain Fairfull with the AFSM at an investiture ceremony at Government House at 3pm today.
Commissioner Mullins said the AFSM, which recognises outstanding contributions to the community and fire services, was one of the highest honours an Australia fire officer could receive.
"Captain Fairfull is a worthy recipient of this award, given his dedication and contribution to the Lismore community and the NSWFB over 46 years," Commissioner Mullins said.
"It is fire officers like Captain Fairfull who help to ensure community confidence in the fire services is high," he said.
Retired Captain Des Fairfull, formerly of Lismore Fire Station, was a retained (on-call) fire officer until his retirement in 2005.
Throughout his service Captain Fairfull, a resident of Lismore, demonstrated outstanding leadership and ensured firefighters maintained high levels of skill through ongoing training.
Captain Fairfull represented the NSWFB on numerous committees and was a driving force behind the upgrade of the Triple Zero (000) callout system in the Lismore area.
His devotion to duty was seen in his participation in disaster recovery work, including numerous floods in the Lismore area, as well as commanding operations at numerous fires, chemical spills, and other emergencies.