Media centre
Firefighters Cycle for Charity
Firefighters Cycle for Charity
Published: 22nd March 2007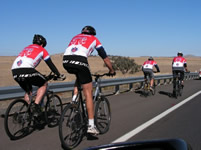 Firefighters and other NSWFB staff are gearing up to take part in the '400 in 4' Charity Bike Ride – raising funds for the Burns Unit at The Children's Hospital at Westmead.
Starting at Campbelltown Fire Station, riders will cover up to 141 kilometres a day, finishing at Turvey Park Fire Station. Riders will stop at Goulburn, Yass and Gundagai along the route. The ride will last from 27-30 March.
The riders are aiming to raise money for the Burns Unit but also to promote key fire safety messages throughout regional and rural communities.
Last year, with four riders, two support crew and one major sponsor, the NSWFB raised $8000 for the Burns Unit. With more riders, and three major sponsors each contributing $5000, the team is hoping to raise even more money this year and is seeking support from the public and business community.