Media centre
Claims by union unnecessarily attempt to add 'fuel'
Claims by union unnecessarily attempt to add 'fuel'
Published: 12th July 0013
Claims made by the Fire Brigades Employees' Union (FBEU) that the unavailability of the Botany Fire Station fire truck and firefighters delayed the service's response to a fuel spill emergency earlier today, are not true.
Fire & Rescue NSW (FRNSW) firefighters were called to a fuel leak at Botany Road, Banksmeadow at 1:30am this morning (12 July). The closest fire station, Matraville, is 1.5kms from the incident and the crew was on scene within eight minutes. They were immediately supported by seven other stations from nearby areas.
"FRNSW fire trucks and firefighters are a mobile resource, as evident by the inclusion of crews from St Marys and Lane Cove among the sizable response to the earlier incident at Banksmeadow," said Fire Commissioner Greg Mullins. "To say we were 'delayed' is not true, particularly when the first crew was mobile and on-scene within eight minutes from the time of call and then joined soon after by firefighters from an additional seven stations."
The fire truck and firefighters from Botany had been moved to cover the Campsie Fire Station as numerous other fire stations and specialised crews were immediately available. Moving fire fighting resources around the Greater Sydney Area to cover other stations is something the fire service has done daily, and safely, for more than 100 years.
"The communities in outlying suburbs whose fire stations were deployed to the Banksmeadow emergency, which was brought under control very quickly, would not have noticed a change to their fire service protection," said Commissioner Mullins.
"With a large network of fire stations, specialised equipment and firefighters operating 24/7 in the Greater Sydney Area, FRNSW moved fire fighting resources to cover a number of areas during this emergency."
Earlier today, firefighters were called to a building fire in Liverpool shortly before the fuel leak emergency. Additional crews from Parramatta, Guildford and Seven Hills were responded to assist their colleagues at the Liverpool building fire – during the height of the Banksmeadow fuel leak emergency – with no impact to fire services protection in Sydney's west.
"It was, and remains, business as usual," said Commissioner Mullins.
NOTE TO NEWS EDITORS: indicative map attached
For reference: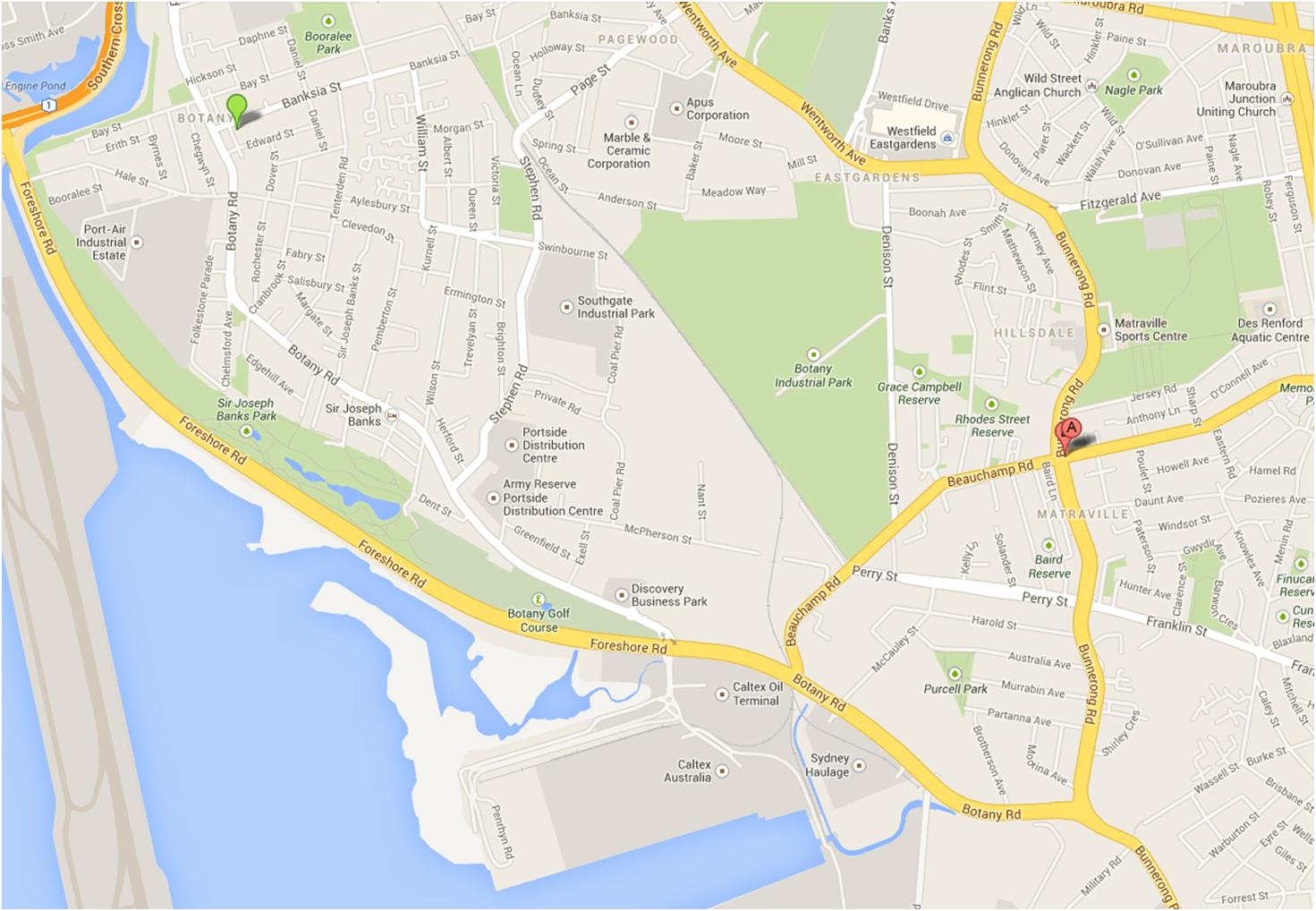 Green pin: Botany Fire Station – approx 3.3km from incident, 3 Banksia Street, Botany
Red Pin : Matraville Fire Station – approx 1.5km from incident, Cnr Beauchamp & Bunnerong Roads, Matraville
Incident location: Intersection of Botany Road and Beauchamp Rd.
- ends -