Incidents and warnings
School principal to be recommended for Commissioner's Commendation
School principal to be recommended for Commissioner's Commendation
Published: 2nd February 2007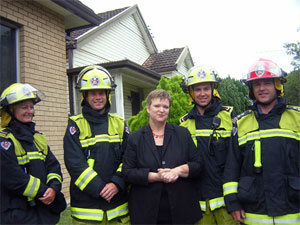 A primary school principal will be recommended for a NSW Fire Brigades (NSWFB) Commissioner's Commendation after rescuing a woman from a burning house on 1 February 2007.
Athelstane Primary School Principal Chris Johnson twice entered a fully alight home across from the school at Arncliffe - first to rescue resident Todora Grasesvki, and then to check if there were any other occupants.
The Minister for Emergency Services, Tony Kelly, said Miss Johnson's quick thinking saved Mrs Grasesvki's life.
"Principal Johnson selflessly entered the burning home with none of the training, experience, protective clothing or breathing apparatus used by firefighters," Mr Kelly said.
"Her quick thinking saved the life of the elderly occupant, and therefore I am recommending Miss Johnson to the Commissioner of the NSW Fire Brigades for a Commissioner's Commendation in recognition of her bravery," he said.
NSWFB crews from Arncliffe and Kogarah fire stations ontained the fire to the lounge room where it started, while paramedics treated the two women for minor injuries. Both women, who had suffered from smoke inhalation, were taken to St George Hospital for observation and were later released.