Incidents and warnings
New Fire Officers for Sydney Fire Stations
New Fire Officers for Sydney Fire Stations
Published: 1st March 2007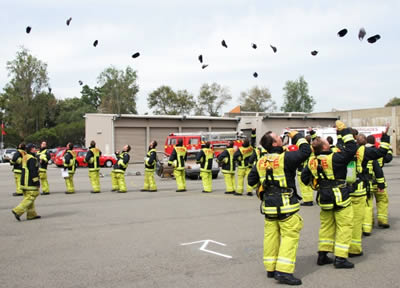 Sydney's firefighting ranks have been bolstered with the graduation of 21 new fire officers from the NSW Fire Brigades (NSWFB) recruit firefighter program.
NSWFB Commissioner Greg Mullins today welcomed the new fire officers at a graduation ceremony held at the NSWFB Training College, Alexandria.
"The new fire officers have met all the challenges presented to them during four months of intense training and they will be an asset to the NSWFB and the community," Commissioner Mullins said.
"Their first posts will be at fire stations in Sydney, and throughout their careers they will assist the community in a range of emergency situations, such as fighting building, bush and grass fires, dealing with hazardous chemical spills and gas leaks, rescuing people from car and industrial accidents and assisting in storm and flood recovery.
"I congratulate the new recruits on their achievement, and wish them all the best for long and successful careers with the NSWFB."
Commissioner Mullins said the graduates were some of the best qualified in Australia, having attained Cetificate 3 in Public Safety (Firefighting and Emergency Operations).
"As well as being trained in firefighting, conducting rescues and handling chemical spills, they have also learned how to contribute to fire investigations and educate the community on fire safety. Following their graduation they will enhance their practical skills while continuing to undertake professional development throughout their careers," Commissioner Mullins said.
The fire officers will take up positions at the following fire stations.
Peter Bellini City of Sydney
Michael Clues - City of Sydney
Mathew Jones - City of Sydney
Shane Thompson - Cranebrook
Sean Ryan - Matraville
James Forde - Redfern
Christopher Fuller - Parramatta
Nigel Littleton Bonnyrigg - Heights
John Marzol - Fairfield
Robert Nicoletti - Marrickville
Beauregard Day - City of Sydney
Mitchell Tappenden - Northmead
Luke Covey - Drummoyne
Mark Skuse - Lidcombe
Cameron Steele - Parramatta
Onur Ayyildiz - Parramatta
Steven Gibson - Schofields
Troy Redwood - Drummoyne
Christopher Osborne - Concord
Grant Gilmour - Lakemba
Chad Noble -City of Sydney