Incidents and warnings
Off duty emergency services workers and truck driver save crash victim
Off duty emergency services workers and truck driver save crash victim
Published: 15th March 2007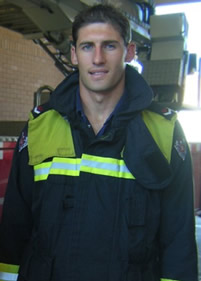 NSW Fire Brigades Commissioner Greg Mullins and Chief Executive of the Ambulance Service of NSW Greg Rochford said today they would consider nominating an off duty fire officer, an off duty ambulance officer and a passing truck driver for bravery awards for their actions in saving the life of a crash victim.
Off duty firefighter Martin Carroll from Hornsby fire station, off duty ambulance officer Phil Clark from Wahroonga ambulance station and a truck driver are being credited with saving the life of another driver whose truck crashed and caught fire this morning.
The truck driver, who was trapped in his cab, was freed by Mr Clark and dragged to safety, with the assistance of a passing truck driver, whilst Mr Carroll used fire extinguishers to stop a fierce fire from burning the truck's cabin.
"These people placed their own lives on the line to save another, and this is worthy of recognition," said NSW Fire Brigades Commissioner Greg Mullins.
"It is reassuring to know that NSW is served by such dedicated and courageous officers," said Mr Greg Rochford, "the incident also highlights the high levels of team work which exists between NSW emergency services."
The incident occurred around 7.25am on the F3 freeway northbound, approximately 1.0 km south of the Hawkesbury River Bridge.