Incidents and warnings
Open house for Fire Brigades
Open house for Fire Brigades
Published: 9th May 2008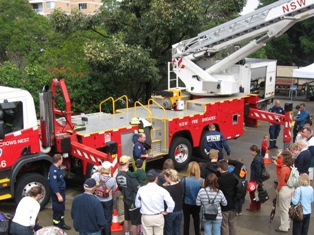 Australia's largest fire and rescue service, the NSW Fire Brigades (NSWFB), will open fire station doors across NSW for Open Day on Sunday 1 June, NSWFB Commissioner Greg Mullins announced today.
"Open Day is aimed at increasing people's understanding of fire safety in the home and a wide range of issues including the need for smoke alarms, home escape plans and safety precautions in the winter months' the worst time for home fires," Commissioner Mullins said.
"This is one of the biggest days on the NSWFB calendar and gives people a chance to learn more about the varied roles of today's firefighters, to sit behind the wheel of a fire truck and receive important advice from experts in fire safety.
"Our firefighters are here to help people manage fire risks in their homes and assess their existing fire safety arrangements. This event will give people a chance to learn ways to protect themselves and their families in a fire or other emergency.
"It will be a fantastic event and I encourage everyone to visit their local fire station on 1 June between 10am and 2pm."
More than 30 000 free showbags featuring fire safety brochures, tattoos, rulers and stickers will be available on the day.
General information on Open Day and details on how to locate your nearest fire station is available on the website www.fire.nsw.gov.au. To find out about specific activities planned at your local fire station for Open Day, contact your nearest fire station directly.