Incidents and warnings
Elderly most at risk to fire
Elderly most at risk to fire
Published: 1st April 2008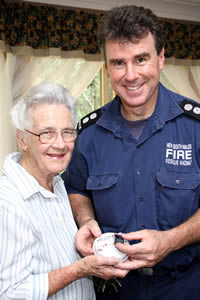 NSW Fire Brigades (NSWFB) Commissioner Greg Mullins today urged older Australians to remain vigilant about fire risks in the home as statistics show that they are more likely to be injured or killed in a house fire than any other group.
During the 2006/07 period, nearly one third of all victims in fatal residential fires were seniors.
Commissioner Mullins said one of the biggest risks to the elderly was complacency.
"The 65 years and over age group represents over 31 per cent of all fire death victims," Commissioner Mullins said.
"It is important for everyone, especially the elderly, to have smoke alarms installed in their home to give them an early warning, and also a home escape plan so they can get out quickly and safely if there is a fire."
The majority of residential fires begin in the kitchen and are often as a result of cooking being left unattended on the stove. The other common causes of fire include mechanical failure and appliances accidentally being turned on or not switched off at the power-point.
Commissioner Mullins said while many older Australians believed they were not at risk to a potential house fire, this was certainly not the case and this would be the NSWFB's focus throughout Seniors Week (6-13 April).
"Over the next decade, baby boomers like me will also become part of this group which is most at risk, so it's important for everybody to start taking simple safety steps now to improve safety measures in the home," Commissioner Mullins said.
"I urge people to ensure that they have smoke alarms installed in the home. We recommend photoelectric alarms connected to the 240V supply by a licenced electrician and interconnected so that when one activates they all sound.
"If you have difficulty hearing, then consider installing special smoke alarms which have a flashing strobe light and a vibrating pad that can be placed under the pillow while you sleep which will activate when the smoke alarm operates."
For more information about fire safety tips for seniors including information on the NSWFB's Smoke Alarm Battery Replacement for the Elderly (SABRE) initiative, visit www.fire.nsw.gov.au/community or contact your local fire station.